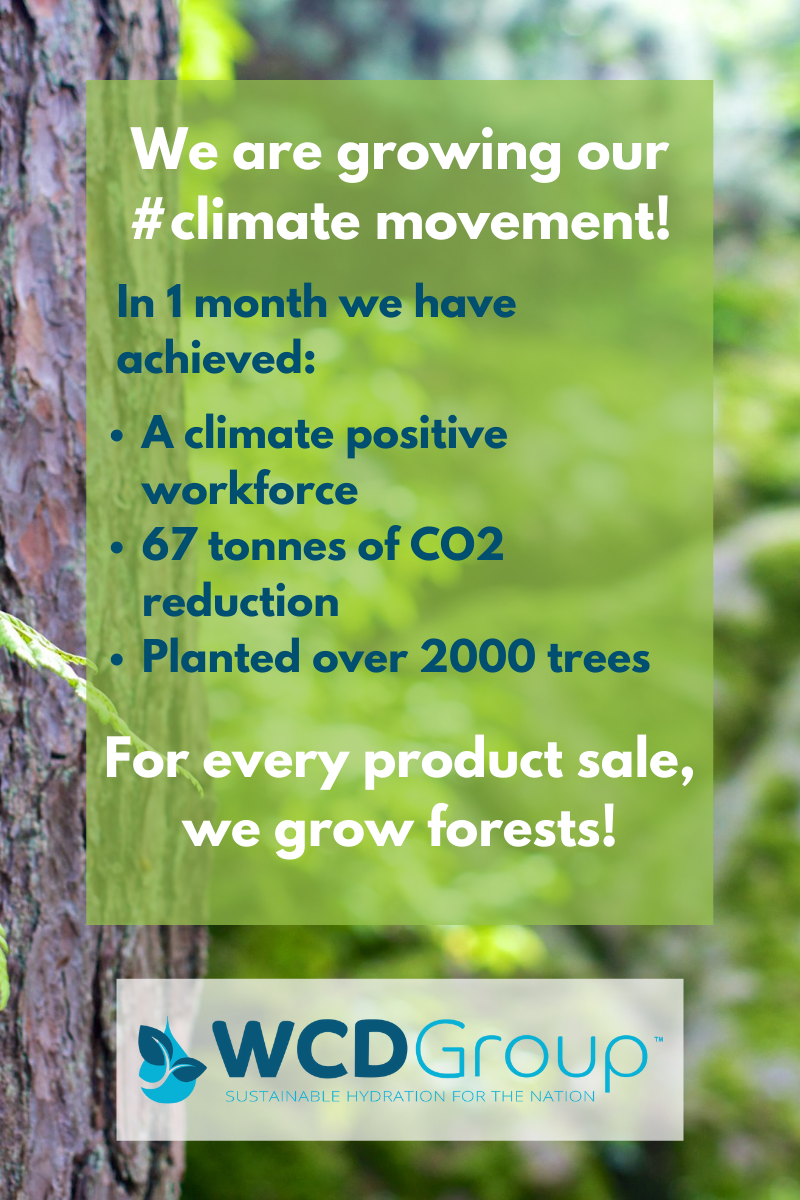 It's fascinating to see what has happened here at the WCD Group since partnering with Ecologi and the real deliverables in a matter of weeks that do make a difference. It's not just lip service to the health and future of our planet
With Ecologi our aim is to reduce our carbon footprint by harnessing unavoidable carbon emissions through planting trees. We are investing in sustainable forests and proud to have surpassed the 2000 tree mark in such a short space of time. The tree planting gradually captures carbon over time, reducing the environmental impact of business, while benefitting wildlife and society, too.
Over 2000 trees in one month
At the WCD Group it's about compensating for our carbon footprint with a carbon positive workforce, for a start. Our partnership directly helps to fund climate projects and for every product sold you can see at checkout; we plant a tree. In this way we can identify and achieve our environmentally friendly business goals.
These proactive steps are helping to safeguard the environment for the future and meet our sustainability goals with positive actions that show our teams and customers that we care.
Projects delivering clean energy  
We feel we are doing our bit and helping with real projects such as this onshore wind turbine scheme in India.
India has one of the fastest growing energy demands in the world, yet 74% of its electricity still comes from fossil fuels. One way to accelerate the move towards clean energy is to expand wind power. Onshore wind turbines provide some of the cheapest forms of renewable energy.
The Suzlon 9.40 MW Wind Power Project is in Jaisalmer, Rajasthan, India and designed to generate electricity through wind energy to displace fossil fuel-generated electricity. The project is made up of four 2.1 MW wind turbines.
This cleaner electricity that is generated is exported to the regional grid, which provides electricity to most of India. Emissions reductions of around 14,000 tonnes per year occur because of this project activity, because the renewable energy from the wind turbines displaces fossil fuel energy in the grid.
Quite impressive and you can read more here on other projects we are supporting.
COP26 climate conference
Following a one-year delay, the COP26 global conference is happening at the beginning of November and all eyes are on climate change.
In the last 12 months we have seen some of the tragic outcomes from our continued emissions – including savage wildfires, floods, hurricanes and more – all of which seemed unimaginable just a few years ago.
If you want to find out the detailed background on COP26 the Ecologi team has produced a paper that looks to summarise the history and what we can expect in November in Glasgow.