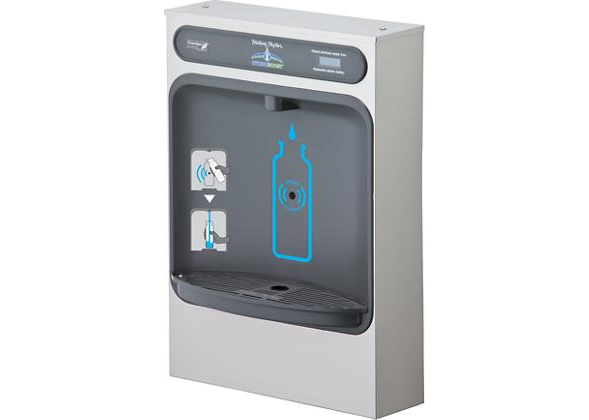 The smartest way to refill a reusable bottle, safely, and not spread coronavirus is to choose a brand of water cooler with inbuilt sensors for a completely hands-free operation. They deliver an ideal drinking solution for any busy indoor public area that is safe to use without touch.
We know that coronavirus may spread from contaminated surfaces such as door handles and worktops; lift buttons and phones, so frequently cleaning these high-touch surfaces can help control infection. The office water cooler is no exception with its shared surface.
So, a good choice in these challenging, infection-control times sees the Halsey Taylor, Elkay and Waterlogic stations that deliver a completely hands-free operation. This makes refilling your drinks bottles reassuringly safe and efficient, preventing the spread of germs with automatic sensor operations.
You only need to position your bottle or keep cup in front of the touchless sensor for water to be released. Water flow automatically stops after 20 seconds, preventing undue water waste and overspill. Its ease and speed make fast work of delivering water safely while minimising any queues.
Some of the Halsey Taylor HydroBoost refill stations do not have water filters so maintenance is extremely low. The silver ion antimicrobial protection on key plastic components helps to inhibit the growth of mould and mildew, reducing the need for upkeep even further, while ensuring the highest hygiene standards are maintained for the public.

A sustainable solution
With great sustainability credentials these refill stations help to protect the environment and rising tide of plastic pollution by cutting out the need to buy single-use plastic bottles. Choose to reuse!
Other green features include very low energy consumption. If you want to offer chilled water, it is possible to easily connect the station to a remote chiller. A smart 'green ticker' feature allows you to track how many plastic bottles you have prevented being used on your premises. What better way to encourage a plastic free habit and promote the refill and reuse message to your teams?
Bothe BREEAM and WRAS-approved, the Halsey Taylor filling stations also have an inbuilt active drainage capability to ensure that there is no build-up of water to make a mess or stagnate. The HydroBoost products are fully compliant with GreenSpec, the UK's leading 'Green Building' guidelines.

Health and hygiene
Firms with water coolers, dispensers and fountains should review office hygiene processes and ensure all communal areas are cleaned regularly with checks and monitoring in place.
Provide alcohol wipes and implement regular cleaning with anti-bac sprays to help minimise risks.
Provide guidance on the correct method of hand washing (wash hands frequently)
Install signs near any drinking equipment, advising staff to not to touch the areas around the fountain of their reusable water bottle and to clean their refill bottles regularly
Provide adequate sanitisation facilities (wipes and anti-bacterial hand gel) for people using the dispensers. Also ensure anti-bac soap and hot water is available in all bathroom facilities and gels on door entry and exit points.
Provide 2m distancing signage for people to form a safe queue.
You can talk to our friendly sales team on 0800 7311 491 to seek the right cooler advice and talk health and hygiene. But please do keep checking the Government and NHS sites for the latest information and advice.
Here are some useful links:
https://www.gov.uk/government/publications/guidance-to-employers-and-businesses-about-covid-19
https://www.nhs.uk/conditions/coronavirus-covid-19/