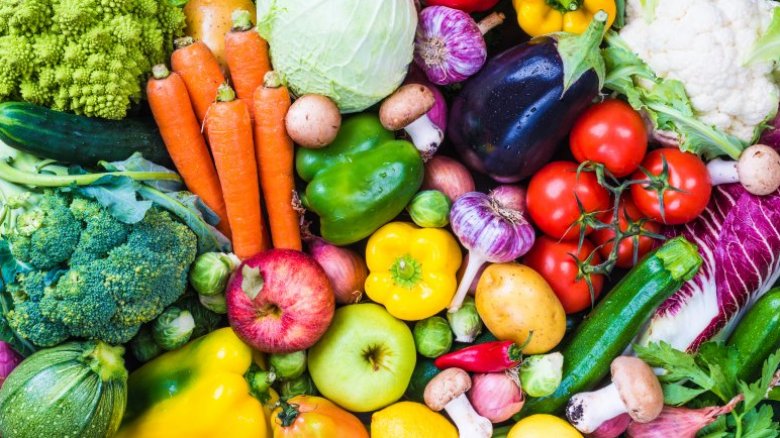 National Vegetarian Week 2020 runs from 11 - 17 May and is all about enjoying delicious, plant-based food. It's an unusual time at the moment, but it's also a chance to have a go at something new and enjoy cooking at home. Many of the celebrity supporters are wearing tee shirts with the logo Eat to Beat Climate Change. You can find out more online at National Vegetarian Week where there are many tasty recipes to have a go at creating.
Of course, drinking water is vegetarian, vegan and everything else to boot. Here are some good tips to ensure you are drinking enough to stay hydrated and healthy.
Infuse your water with fresh fruit and fresh herbs, to give it a delicious, natural flavour. The possible combinations are endless, but some of our favourites include lemon & fresh ginger; strawberry, lemon & basil; and watermelon & mint. Infusion-style water bottles allow you to add your chosen fruit and fresh herbs into the capsule in the bottle, and let it infuse away!
Have a cuppa. Herbal and fruit teas are a particularly good alternative to drinking water when you fancy an afternoon brew! We love organic herbal and green teas and the wide variety on our supermarket shelves now. Ginger, licorice, fennel, lemon, cinnamon, the tea leaf choice is endless. You can't beat a fresh mint tea!
Make soup. A stock-based soup packed with veggies is a great way of upping your water intake! Just be careful of ready-made soups as some of them can have a high salt content (always check the label - high is more than 1.5g salt (0.6g sodium) per 100g). Wherever you can, make your own; so easy with a blender or Nutri-bullet!

Eat you water
Finally, and in support of Vegetarian Week, eat your water. There are lots of fresh fruit and vegetables with high water content and incorporating these 'juicy' foods into our diets can help ensure that we stay well hydrated!
Quench your thirst with the following fruit and vegetables to eat your water and get the added boost of vitamins and phytonutrients at the same time.
Cucumber. Cucumbers are composed almost entirely of water and form the perfect base for juices and smoothies. Chopped cucumber snacks are also a fantastic to-go snack, delicious dipped in hummus! Cucumber is a fantastic source of silica, which helps to strengthen nails and hair, and keep them shiny! It is also rich in other skin-friendly nutrients including vitamin C, beta-carotene and magnesium.
Watermelon. As their name suggests, watermelons are high in water, around 92%. Deliciously refreshing, watermelon combines perfectly with feta and mint in a summer salad.
Tomatoes. Ripe tomatoes consist of around 94% water, and this one of the reasons why a bloody Mary makes such a good morning-after drink!
Iceberg lettuce. Often shunned in favour of the more nutrient-rich (and trendy) greens such as kale, spinach and watercress, when it comes to water content iceberg lettuce comes top of the leaves to enhance your salads.

Refill and reuse
We find chilled and filtered water has a far superior taste and quality than tap water, making it much more pleasant to #drinkmorewater.
While working from home, consider a countertop cooler to save buying heavy bottles of water when you do go shopping so you never run out. If you can't install a plumbed in cooler, a bottled cooleris very affordable and its 15l bottles are 100% recyclable.
Most firms are planning to bring their workforce back into their premises. Access to fresh, filtered water with a plumbed in water cooleror high capacity drinking water fountain delivers health and wellbeing benefits as well as point-of-use hydration. Make sure you have enough hydration stations around the office and building for the team so they can socially distance and avoid clusters.
Chilled and filtered it tastes great and is eco-friendly. Refilling your own Chilly-style bottle puts the planet first, cutting out the need to buy single-use plastic drinks bottles that end up in landfill and polluting our beaches and oceans.