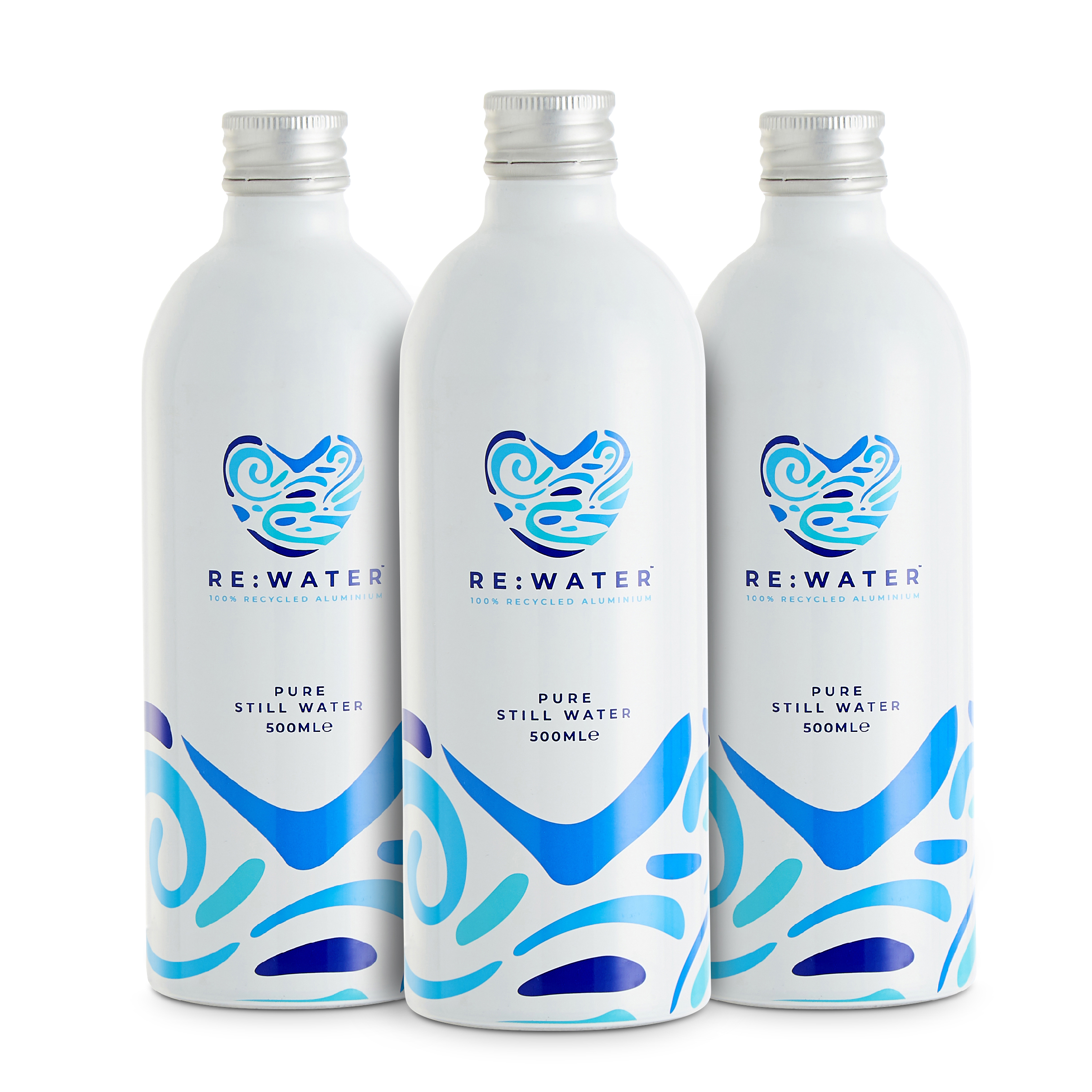 The world's first 100% recycled aluminium spring water bottle.
Re:Water comes filled with pure spring water from Herefordshire. The aluminium bottle keeps water cooler and fresher for longer, and once finished can be refilled, reused and recycled. Developed in response to the growing global problem of single-use materials, it is a sustainable alternative to single-use plastic. The unique cap is also made from aluminium which means the bottle can be resealed securely multiple times.
A perfect fit with its range of refill hydration stations the WCD Group has partnered with the British spring water firm who offers both still and sparkling water (coming soon) in reusable, recyclable aluminium bottles that deliver superb eco-credentials. The exciting new brand is called Re:Water and is about delivering sustainable refreshments and refill for individual wellbeing as well as the health of the planet, saving plastic waste.
The bottles are in available in a range of unit packs for retailers and beverage providers of all sizes. Excitingly, the bottle can also be produced with an own label subject to quantity, delivering powerful branding opportunities for resellers and corporates.
Said Freddie Cairns Palmer, CEO at the WCD Group: "We are excited about the opportunities between WCD and Re:Water as a marketing partner and reseller. This unique bottle is made from 100% recycled aluminium but it can be refilled and reused many times, and when you are done it can simply be deposited in your UK recycling system for a circular economy. Our business is built on the refill sustainability model and spring water in a reusable bottle made from 100% recycled materials is grabbing the attention of our customers."
Refill revolution saves plastic waste
Managing director, Pete Glanville added: "The metal bottle has excellent properties keeping water tasting great. Described as a game-changer for the drinks market it is the future of bottled water without plastic! We think of this like the 10p bag for life – a bottle for life – and it is a British solution!"
"We are already engaging in some successful opportunities with high street food & beverage retailers and vending operations. Adding our experience to the project extends the market reach and saves single-use plastic pollution."
www.rewater.co.uk