Although some may say that if you blink you will probably miss it, the British summer has arrived and now is the time to take a closer look at your hydration regime and make sure you taking enough liquid. Just look at the crowds of spectators enjoying Wimbledon and you will see that the temperatures have increased sufficiently enough to enjoy our beautiful outdoors once more.
Here we look at some proven ways that will ensure you will stay better hydrated at SW19 and elsewhere.
Plumbed in water coolers to stay hydrated
First of all treat your hydration routine like a habit instead of just a phase. The sooner that you can introduce more liquid refreshment into your daily schedule, the better. Many of us simply put off drinking a glass of water because we fail to realise how devastating the effects of dehydration really can be. By keeping your glass or water bottle refilled with frequent visits to the office water cooler, makes hydration that much easier. Keep it with you at work and on the go; use a handy drinks reminder app to ensure you are drinking the recommended daily amounts.
If you start to feel a little tired or jaded, take a drink and relax for a few minutes. Filtered water is the best option because you are getting 100% hydration instead of a mouthful of unwanted additives that can have an adverse effect. Add mint, limes, lemons or fresh berries to infuse and jazz up a drop of the good stuff. Ensure your workplace supplies fresh drinking with water dispensers, chilled, filtered and tasting great.
We have some great water coolers and fountains on summer special deals that can be plumbed in for water on demand, never running out in warmer weather.
Herbal hydration
Herbal tea is another great way to get water into your system and an instant boiling KettleTap makes fast work of brewing hot drinks. Caffeine free and very refreshing herbal tea is growing in popularity and a great way to keep dehydration in check. You can also consider your diet to include more water-rich food options. Whole foods are an excellent source for this and by consuming the likes of yoghurt, fruits, vegetables and pulses; you will boost your hydration levels quite easily.
Wimbledon reduces single-use plastic
We are all fully aware of reducing plastic pollution in our daily lives but also at festivals and sporting events. With over 475,000 people attending Wimbledon the organisers have said it has over 100 refill stations around SW19 for the crowd to self-fill a reusable bottle and save buying single-use plastic.
One big change is that all of the water bottles sold and given out at the two-week long tournament will be made from 100% recycled plastic that can be recycled once fans are done with them. We hope this also applies to tournament water sponsor Evian who says it plans to make all of its bottles out of 100% recycled plastic by 2025.
With cutlery and most of the drink cups being made from 100% recycled material, and the containers used for their famous strawberries and cream are made from 70% recycled plastic, there is a big focus on sustainability and responsible recycling. Wimbledon has also stopped putting players' freshly-restrung rackets into plastic bags, which means 4,500 fewer bags will be used during the tournament.
So you don't have to win Wimbledon to enjoy this summer, just follow these simple tips and we can guarantee that you will feel alert and healthy.
Win a reusable Chilly's bottle and Robinsons squash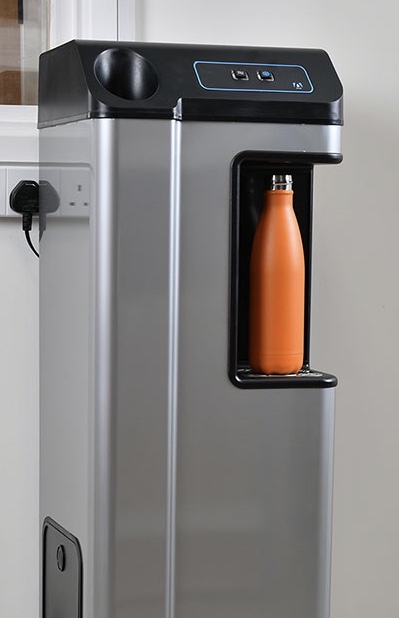 However, you can win one of our great branded Chilly's bottle and some Robinsons squash, long associated with this great British sporting tradition, look out for it launching next week on our social media.