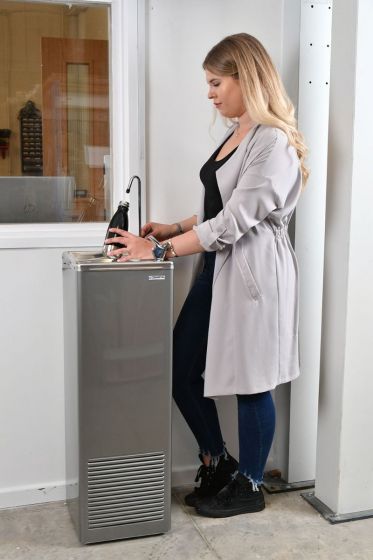 As we raise awareness for #WorldEnvironmentDay at the weekend, one small thing we can all do that will have a big impact on our planet is to refill.
It is one of the best ways we can take care of our environment and remove single-use plastic from our home and workplace. We continue to see innovative ways of refilling reusable bottles and containers whether it's cereals and grains, loose fruit and vegetables, drinks, household cleaning products or bathroom beauty. The move to shop in a sustainable way gathers pace with the long-term aim that it becomes the norm and reduces pollutants going into landfill, the environment and then the ocean sea where they take hundreds of years to decompose.
Sustainable hydration
Refill saves pointless plastic, money and is so easy to do. It's less stuff to be recycled or put in general rubbish that ends up in landfill, so a win-win for the environment.
Sustainability is a key driver for our hydration business providing drinking water solutions that cut plastic pollution and encourage refill and reuse.
With organisations such as Refill.org and other anti-plastic bodies fast emerging, the growth in businesses and retailers considering investment in plumbed-in refill stations for their customers and the public, to refill reusable bottles with fresh water, is moving at pace.
It is estimated that an average of 35.8 million plastic bottles are used every day in the UK, but only 19.8 million are recycled each day. Also, while many bottles are becoming 100% recyclable, the progress is nearly not fast enough.
Contactless is easy and safe
Many cafes and restaurants are reopening after lockdown and there has been much talk to help keep reusable coffee cups on the menu, where consumers can take their own reusable coffee cups and drink bottles to refill and self-fill.
The #contactlesscoffee service where you place your clean, reusable cup on the counter for the barista, it is returned to you safely and you put your own lid on. In this way you can say no to a coffee in a throwaway plastic lined and lidded cup.
Refill hydration stations
Mains-fed water coolers, fountains and high-volume dispensers are fitted with water filtration systems to deliver great tasting, high quality, chilled and filtered water so you can refill a reusable bottle in seconds. You never run out of water even in hot weather and great tasting water encourages us to drink more water for better health and wellbeing.
For hygiene best practice many coolers and fountains can be retro fitted with sensors and pedals so refills can happen hands-free. Touchless machines are the way forward when it comes to running a safe office that cuts germs and bacteria surface transmission by being handsfree.
Our plumbed in hydration stations are very popular and allow staff to refill with filtered and chilled water that tastes great. Increasingly we are getting in the habit of carrying a reusable bottle because in the UK we use over 35 million plastic bottles every day and this can so easily stop.
For convenience folks do still buy bottled water. But bottled water can cost between 30p and 60p a litre and comes in plastic, which can be non-recyclable and is manufactured with oil that carries a high carbon footprint. A hard habit to break but an act that plays on our conscience with feelings of guilt!
Retailers are also doing their bit with some inspirational stores providing self-fill hydration stations for their customers, in public retails spaces. This is set to continue.
Instant boiling & cold taps
So, take a minute today and sit down with a cuppa to rethink your plastic-free plans!
One tap does it all and 4in1 KettleTaps give you instant boiling and cold water saving time, money and valuable energy resources.
The ultimate in convenience and why wait for an old-fashioned kettle to boil? But choose your tea bags with care or go loose leaf. Many tea bags contain plastic, but Pukka Tea and Teapigs are plastic free, and PG Tips are biodegradable.
The most single helpful thing we can all do on #WorldEnvironmentDay is to refill.