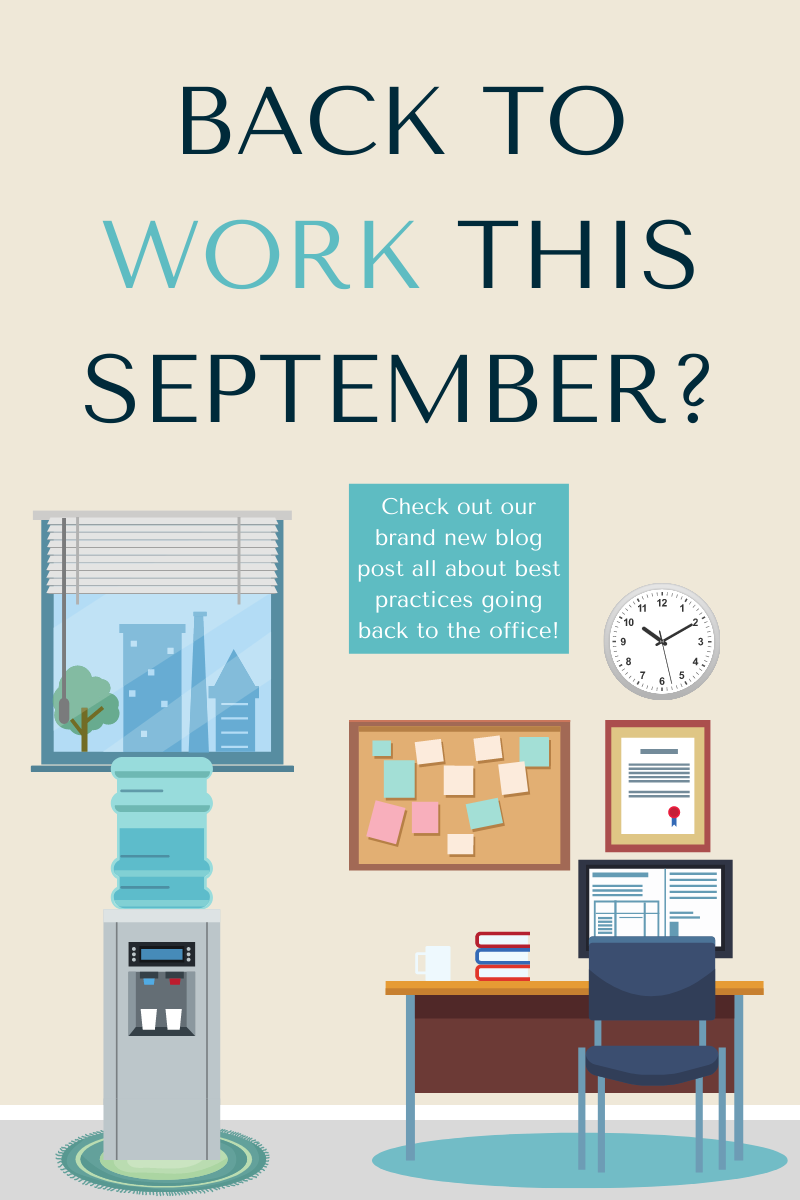 With the school holidays now over, and government schemes coming to an end, many firms are returning to the office to work and encouraging their teams to achieve a happy blend of working from home and the workplace.
Staying healthy is our main aim in these challenging times and taking steps to keep your immune system healthy and functioning at its best to help fight illness and infection.
Make sure you have adequate rest and sleep, exercise regularly, eat well, and stay hydrated. Eating the right diet and drinking the recommended daily intake of fluids are particularly vital.
Did you know that 70% of your immune system is based in the gut, so boosting your immune health through good nutrition, proper rest and good hydration is important to help fight off disease?
Tips to stay hydrated in the workplace
Keep water at your desk. Refill a bottle and use as a visual reminder to hydrate. For employees with desk jobs, this is the best way to stay hydrated at work. Staying hydrated can also reduce headaches that may be worsened by eye strain.
Take regular hydration breaks. We get so caught up in busy days that we sometimes forget self-care. A water break is a quick opportunity to sip and relax the mind for just a moment. When break time is over, your body and mind will be ready to take on whatever work challenge comes your way.
Choose hydrating healthy snacks. Many people notice a decreased appetite during summer. Eating smaller meals of hydrating fruits and vegetables can help you stay hydrated and energized. In fact, 20 percent of daily water intake comes from the foods we eat. High-water foods such as watermelon, cucumbers, strawberries and leafy greens are nutritional powerhouses with a hydrating impact.
Encourage employees to drink water. At meetings and throughout the workday, providing easy access to fresh, filtered and even chillef water to help the team to drink up and stay hydrated.
Simply put, a busy work schedule shouldn't keep you from staying hydrated. Prevent dehydration by drinking plenty of water throughout the day.
Make sure you have an adequate number of hydration stations (water dispensers) located around your office space so that staff can refill with clean, filtered water without queueing and risk compromising social distancing.
Water is best

Your body needs fluids and electrolytes to function at its best, especially when you are suffering symptoms like a fever, coughing, diarrhea and sickness, which can easily dehydrate you. Proper rehydration helps with illness recovery.
Healthy hydration levels can also help your nose by maintaining the health of the mucous membrane and decreasing irritation when coughing and sneezing.
Rehydration drinks and sachets with electrolytes are readily available in the supermarket or pharmacy and good to take relieve symptoms associated with illness-related mild to moderate dehydration to replace those lost fluids.
Fizzy drinks and those with a lot of sugar, like sports drinks, are not such good choices for sorting dehydration symptoms resulting from illness because of their higher sugar content which can make issues worse.
Which water cooler should I choose?
Call our team on 0800 731 1491 to find out which water dispenser meets your office needs and budget.
Many models come as a free standing or desktop model; plumbed in to the water mains or with a fully recyclable bottle if mains water is an issue. So, whatever your requirement you know you can still consider the planet and reducing the impact of waste and plastic pollution.
We also have contactless, hands-free models such as the Clover range, to offer the ultimate in hygiene reducing the spread of germs and bacteria. As part of our offer for 'back to work' companies looking to add more hydration points in their office space, we are also providing social distancing sticker packs with the install.
Consider self-care when returning to the workplace. Don't miss meals or forget to refill your reusable bottle or glass at the office water cooler, while catching up with colleagues. Good nutrition, hydration, rest, and exercise will all help boost your immunity and help to keep you healthy.