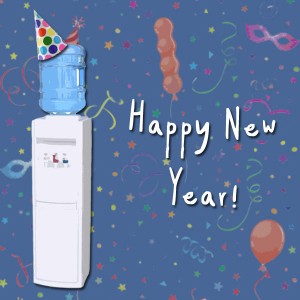 Happy New Year to all our customers!
We are just a couple days in to 2014 and already the New Year's resolutions will have started including all the diets, exercise regimes and healthy eating! Here at WaterCoolersDirect we think that the best New Year's resolution you can choose is to drink more water!
Water is the perfect element to kick start your health plan and here a just a few reasons why;
Water is a great way to cleanse the body and refresh your liver after all the alcohol that may have been consumed over the Christmas period. To feel the benefits we recommend drinking around 8 glasses of fresh filtered water a day! Remember we have a FREE app that helps you calculate and count your water intake on your phone or device! Click here for more details.
There have been claims that drinking a glass of water before each meal can in fact help you lose weight. On average 5 extra pounds could be lost when drinking water before eating – a much cheaper option than joining the gym!
If you are taking up exercise as a New Year's resolution then it's even more vital to drink more water. When we work out we sweat and our bodies can become dehydrated. In order to keep your body replenished we recommended taking a bottle of water with you to make sure you drink plenty of water before, during and after your workout
Drinking plenty of water each day can help boost your brain power making the first few days back to work after the Christmas break less of a struggle!
What is your New Year's resolution for 2014?