It's the latest kitchen must-have appliance at home and in the workplace. An instant boiling tap is so convenient with many uses and saves time, water and energy. Check out our new KettleTaps.com website and shop Home or Office for the best choice in taps to suit your location.
One tap does do it all giving you domestic hot and cold, as well as boiling and filtered chilled and also sparkling if you wish. We supply all the leading brands on our new KettleTap website to suit home and office needs at differing price points and in a variety of finishes and colours.
From the popular Quooker hot taps for the home, to the Zip HydroTaps in the commercial space we also supply Cosmetal, Hotspot Titanium, Marco, Vivreau, and our own Intrix KettleTap brand - so the widest choice for firms of all sizes.
Our smart, clever Tap Finder feature will recommend the best appliances to suit your needs, office size, use, style and budget.
As it starts to turn cold outside, stay warm and enjoy a hot drink during this festive period made with total convenience and ease in the workplace, or at home.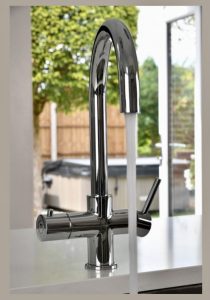 Why is a boiling tap useful?
With a user-adjustable temperature set just below boiling point for the perfect brew, a boiling tap makes fast and easy work of the tea round! No waiting for the kettle to boil, wasting water and constantly refilling it, so delivering a huge saving on the mains water bill. Just heat what you need and use for all your drinking needs, continuously; and it's so fast, which is why staff productivity is optimised in the office and you have more time at home, too.
Hot taps are great, and have so many uses in the kitchen, as well making hot drinks, your team can tackle breakfast porridge pots and lunchtime instant snack pots, pastas, noodles or couscous, in seconds!
In the home with a Quooker, the big plus at this time of year is soaking all those nasty roasting tins, cooking pots and pans after Christmas dinner so you can spend more time with your family, which will be more precious than ever this year!
By moving from the old-fashioned kettle to hot tap, look at the ROI. A home and business can save time, money and energy resources providing instant boiling water for the family and workforce.
A virtual appointment at your desk
Tap into our expert advice on a new boiling tap with a one to one virtual, interactive appointment with a member of our team. Whether you're looking to kit out the office or enhance your home kitchen, we can assist in providing non-biased advice based on over 20 years appliance experience.
The KettleTap brand
At KettleTap we are renowned for providing a best-in-class service on boiling taps. With over two decades of experience and access to the world's top brands, we are experienced in providing sales, service, installation, and advice as a leading independent hydration supplier.
We're passionate about the environment too, and through our climate change partners Ecologi, we know we will plant well over 5000 trees and remove over 250 tonnes of CO2, before the end of 2021 alone!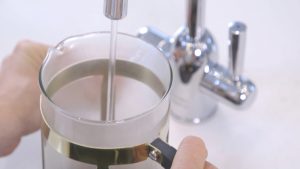 Refill revolution
The best environmental way to reduce plastic pollution and waste is to refill a reusable.
Fill your favourite e-coffee cup or reusable water bottle, such as the Chilly's bottles and SHO brands and save buying throwaways or single-use plastic bottles and cups that pollute the planet.
Choose to reuse.